This is a manual on how to install Garuda Linux "Harpy Eagle". If you have done it before, you might still want to stay here because you may learn something new 😁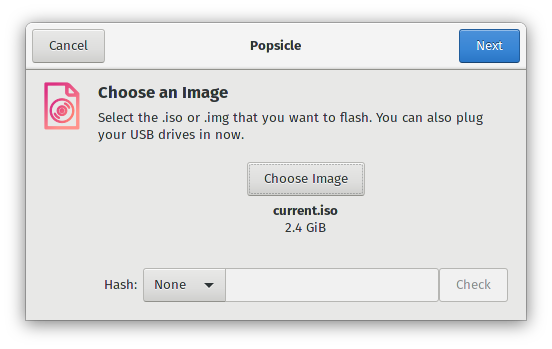 Once its done, boot the drive you just flashed above by selecting it as boot option in your devices BIOS.
More information on how to achieve this might be available here as the procedure depends on the device manufacturer.
We booted the live installation medium. Click on "Install" button on desktop to launch Calamares. You should plug in a charging cable if you are using a laptop. An internet connection is optional.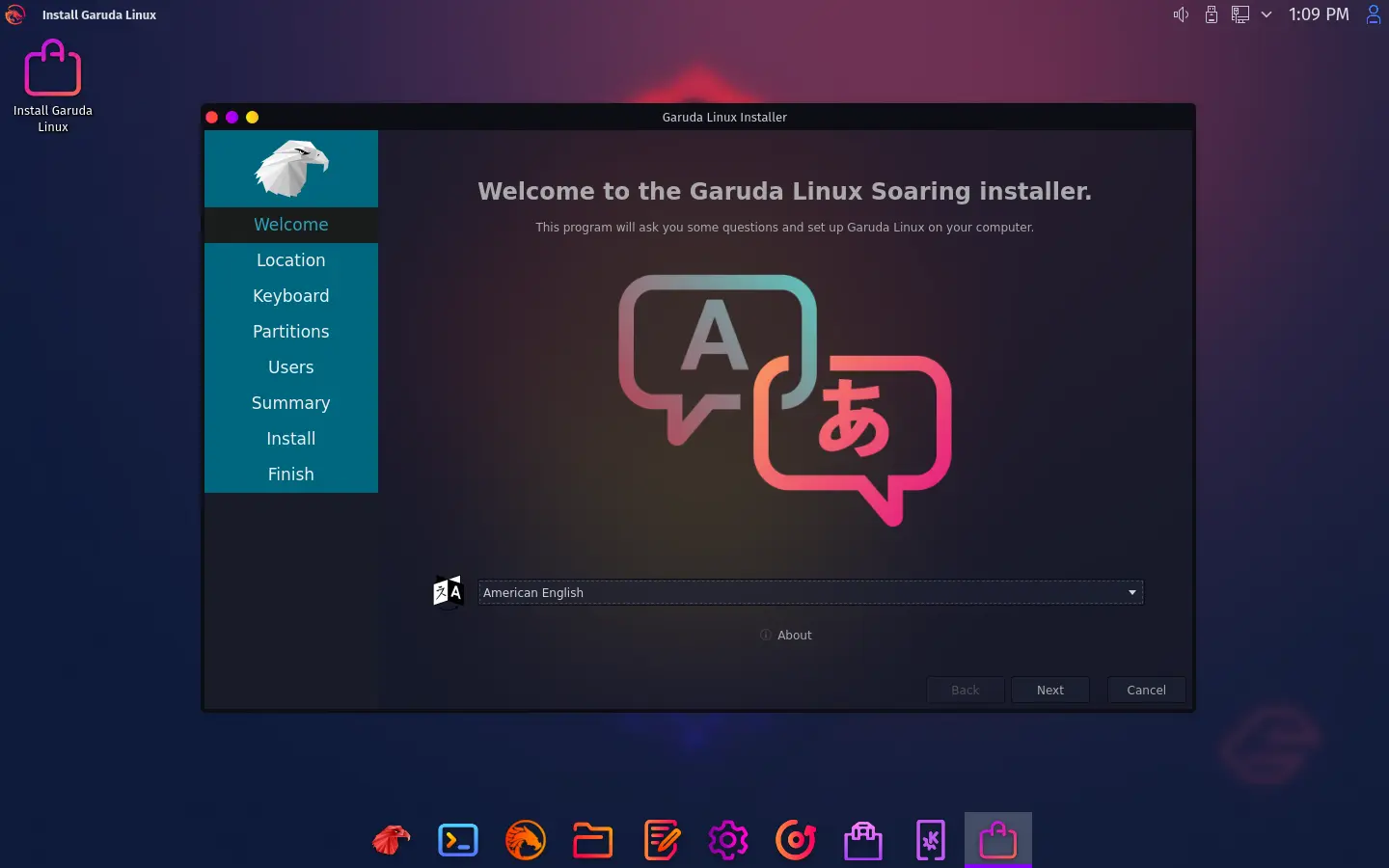 Once it opens you will notice that there are 8 steps in Calamares:
WELCOME - Here you need to choose the language that you prefer.
LOCATION - Here you see a map. If you know geography, click on place where you live. It sets up the devices timezone.
KEYBOARD - Here you need to choose your keyboard model and main keyboard layout.
PARTITIONS

If you don't care, choose "Erase Disk". This is recommended if you want to use Garuda as main OS.
If you care, select "Manual Partitioning". A partitioning manual will be available later.

USERS - Here you need to choose your username, hostname and password.
SUMMARY - Here is summary information about the earlier selected options. Which location, which locale, which username, etc.
INSTALL - The actual installation of Garuda Linux. You can see a progress bar be happy about new installation once it finished.
FINISH - When message about successful installation pops up, you have to reboot the computer.
MAY BE USEFUL:
Okay, you installed Garuda Linux, right? Congrats! I'm proud of you!
Let's start some essential things to do after the installation.
The setup assistant will open up after the first boot process has been completed. It will run you through some essential steps which should be performed after an installation and offers an additional wizard which can install a lot of common Linux software. The first prompt will ask you to update the system, which is highly recommended. This will run the update, update mirrorlists to get the best download speed, a few additional maintenance tasks and most importantly: it can apply eventually required manual interventions automatically by updating the garuda-update script to the latest version before proceeding with the actual update. We occasionally use this to work around some problematic situations like the recent example of a required reinstallation of all packages affected by Arch pushing Python 3.10 to its repos.

After that, we you can start the application wizard to help finding fitting and required software - printer support is also one of those options.

Most applications have a short description about what the package actually does - this can help you decide which option to take.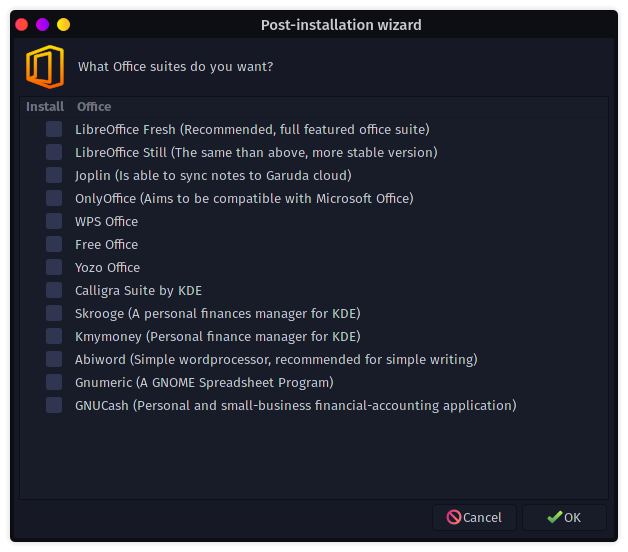 In the end, the assistant will open a terminal window to install & setup the selected options. Additional setup (like enabling systemd services) for packages that require them will be handled automatically.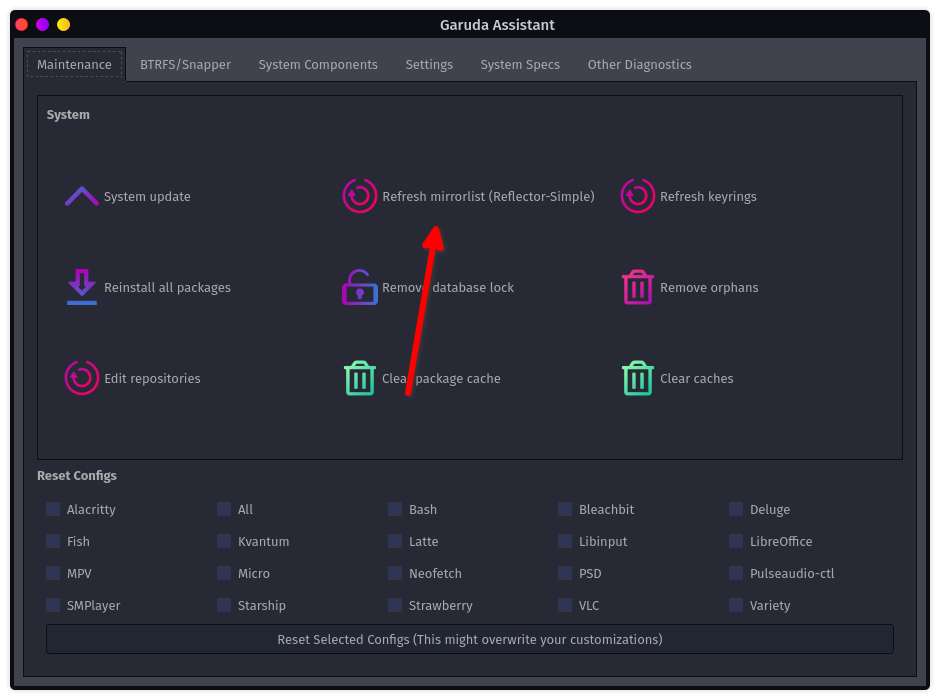 Click on "Refresh mirrorlist" in Garuda Assistant. Clicked? Good. It will open reflector-simple, a GUI for reflector.
In reflector-simple choose your country and if you want, worldwide mirrors, and then "include https mirrors". Then just click "OK".
The window will close but the actual process did not complete yet. Wait until another window opens and click "Save".
Open up your terminal. The application used as terminal depends on the edition used. All editions do ship "Alacritty" though - best of the best as I think.
Then, type sudo pacman -Syyu and wait until it's done. If it causes any issues, visit our forum or Telegram chat for support!
To learn more about Pacman, click on the hyperlink.
That is all what we needed to fully install the system. Of course, there are also more things to learn like Octopi, Garuda Gamer and many more. We have a wiki article describing further steps to take when setting up your fresh installation over here. Reading this article is highly recommended as it demonstrates some things most people would like to go through on their new installation.
And now, goodbye. Have a good linuxperience! 😌
P.S.: I am really proud of you if you installed Garuda Linux for the first time 😇