So you just installed Garuda and want to know how to proceed? Keep on reading! 😊
Getting the initial mirrorlist
Either you open "Reflector Simple" found in the startmenu if you prefer using a GUI or you open the terminal and type the following (substitute Germany with your Country, if no mirrors are found its fine to use the german ones, they are fast):
sudo reflector --country Germany --latest 5 --age 2 --fastest 5 --protocol https --sort rate --save /etc/pacman.d/mirrorlist && cat /etc/pacman.d/mirrorlist && sudo pacman -Syu
Here you can chose between GUI and terminal again. For the first option you have to open Pamac (also called software update) click update. If you prefer the terminal it is as easy as typing:
sudo pacman -Syu
After a bigger update (especially if kernel versions changed) it is advised to reboot afterwards.
Setting your personal terminal theme
We ship Powerlevel10k as default zsh theme which can be changed according to preferences. To change its settings open the terminal and type:
p10k configure
A setup wizard will be started. Make sure to press "y" until actual theme choices pop up (the required font is shipped). In the end, press "y" to save your choices and apply the theme instantly.
Downloading languagepacks
Some applications such as Firefox ship its language packs in separate packages. This makes installing them after the initial setup a needed step. This is however made simple by using the Garuda settings manager. Open it up and get your language packs!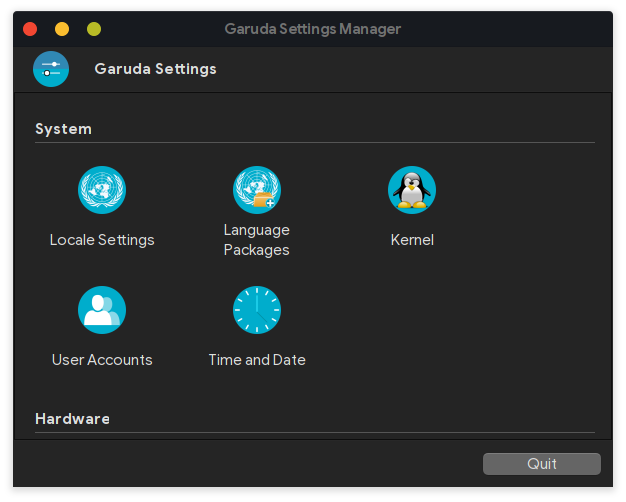 Getting printing and scanning support, adblocking and more using the Garuda Welcome app
We made some settings easy for you and included them in the Garuda Welcome app. Here they can be turned on and off by toggling. To get an overview on the current available settings, have a look: